Blog: The Light of Aurora
Alumni Reflections
05:00 AM - March 19, 2021
Alumna Brooke McAdam continues to enjoy involvement in the AWS community
The reflections shared by our alumni at the fourth annual Alumni Panel were inspiring and reaffirming. Once again, Brooke McAdam, class of 2001, moderated the event. We also heard from Harry Warren, class of 2004, Kayla Czysz class of 2005, and Maggie (Naughton) Warren, class of 2007.
In describing how she explains Waldorf education to those who have not experienced it, Maggie noted, "[AWS offers] a really incredibly rigorous academic program... geared towards meeting students where they're at but also raising them to a really high academic level. I think that's something some parents [worry about], they see the students do all this art and music and play outside all the time and it sounds so fun, but is it really going to prepare them?.... I've always felt that the school did an incredibly excellent job of preparing students for the future."
When asked what challenges they faced in their transition to high school, Harry shared, "It was acclimating to a different style of learning...Waldorf education incorporates experiential learning and lots of creativity. I remember stories being such a big part of it...and the sense of community. When I think of the classroom, I think in terms of how it felt and relationships. I made some amazing friendships in high school as well, but that feeling of community and home within the classroom didn't exist there.…[At AWS] it was really valuable to be creative, and when I went to high school, there was more focus on rote memorization and the accumulation of knowledge, rather than developing the individual." Kayla added, "I think my one challenge was learning how to navigate standardized testing when I went to high school, but I will have to say that academically, high school was the first time that I didn't feel challenged. So I got creative. I got really into clubs and sports and activities, and I think that helped with the high school transition because it engaged me in a really lovely way."
Brooke stated, "[AWS] is a school focused on preparing you for the next step in your academic life, but there's so much richness in the whole experience that gets carried forward into people's lives." Maggie noted, "My parenting style has been heavily influenced by the time that I spent at the school."
Maggie went on to list aspects of the AWS Early Childhood curriculum that she incorporates into her home life with two young children, including warm breakfasts, plenty of outdoor playtime, and handcrafts with natural materials, such as wool.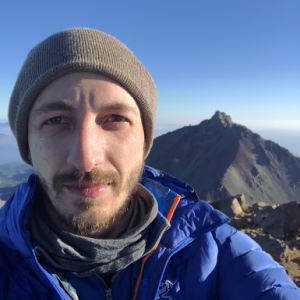 Harry: "Since I work in healthcare...I've been working a lot, probably too much, but I think one of the things that has sustained me, and it really started with Waldorf, is nature. Just walking away from my computer and my multiple screens and getting out into nature and experiencing that serenity....It is so important, and I often think back about my time in West Falls hiking to the creek or going out into the woods, and [it continues to be] an incredibly centering force in my life. And similar to what Maggie shared, I'm in my 30s now, and I still break out the knitting needles!"
"Adaptation, I think all of us have realized more than ever this year, is a lifelong process," said Brooke. Kayla responded, "My perception of time started to shift, and I think this happened for a lot of people working from home. When we don't have markers of time, we can lose our place a little bit. Something that I really noticed myself returning to this year in order to adapt was to find rituals and find ways to mark time for myself….A lot of seasonal traditions I one hundred percent pulled from Waldorf! I think that's a part of our education that I've definitely taken for granted, all of the rituals and the celebrations that we had. These things where we're marking time and getting in tune with the cycles and the seasons of nature. That has been one of my biggest tools this year to deal with the effects of adapting my life."
We are so proud of our graduates and their incredible accomplishments! You are invited to watch the full 1-hour recording of this inspirational conversation among our alumni to learn more about how their experiences at AWS still influence their lives today.
Brooke, current AWS Board President, attended Nichols High School in Buffalo and then Macalester College in St. Paul, Minnesota. While there, she majored in German Studies and Theatre. She has returned to Western NY and works for M&T Bank as a content designer.
Harry attended City Honors in Buffalo for high school and then went to Cornell, where he studied History, Sociology, and Italian. He now lives in Madison, Wisconsin, and has worked for Epic for almost a decade, installing hospital software systems in the United States and worldwide, specializing in the research, population health, and analytics divisions. Recently he did a software installation for Catholic Health.
Kayla went to Springville-Griffith Institute public high school, then earned her Bachelor's in Community Mental Health at SUNY Buffalo. She then moved to Portland, Oregon, and completed her Master's in Clinical Social Work. Now she's back in Buffalo, working at a private practice in the city and specializing in holistic and integrative psychotherapy. Kayla and her fiancé also recently started a small business, Hallo Studios, where they offer creative resources for bereaved people and families, including memorial artworks, workshops, and more.
Maggie attended East Aurora High School and then Brigham Young University in Utah, where she studied Special Education. In Utah, she taught at a school for the deaf and blind for four years before getting married and starting her family. She now has two daughters and has moved back to Western NY.
Jaime Thompson, M. Ed. and B.S. Early Childhood Education, SUNY Fredonia, and former Early Childhood teacher at Aurora Waldorf School.